Rod Hardy - Harvard Class of1960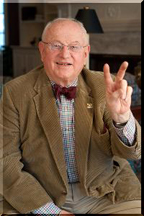 Born in 1938 in Cleveland, Ohio to Rodney Clinton Hardy and Harriett Hickok Hardy Kenyon, Rod attended school in Shaker Heights, Ohio.
In 1956 he graduated from Deerfield Academy, in Deerfield, Mass., then in 1960 from Harvard College cum laude. In 1963 he received a Masters of Architecture from the University of Pennsylvania then the University of Edinburgh School of Civic Design as a Fulbright Scholar. Planned communities became his passion and expertise. He and his partners in three firms created residential and golf course communities in New Jersey, Minnesota, California, and Arizona.
He was a longtime Rotarian, a devoted Episcopalian and volunteered throughout his life, notably at Harvard University.
While on the swimming team at Harvard, he took a summer job as the swimming instructor at the Northeast Harbor pool in Maine where he discovered the beauty of Mount Desert Island and met his wife of 51 years, Katie. Each year he returned to the island and instilled this love in his children and grandchildren. Whether he was sailing, eating lobster, or hiking, Rod Mount Desert Island.
Most of all, Rod loved people. He always made you feel welcome and took a personal interest in your life. In his final days. he had many visitors and reveled in sharing stories, ideas, and the company. He died, at home, on Dec. 1, 2011 of pancreatic cancer. As we often heard on Caring Bridge,Rod, you taught us how to live, and you taught us how to love. Rod is survived by his wife of 51 years, Katie; daughters Kim Hardy Erskine and her husband Jim of Ripon, Wis., Elizabeth Hardy Carey and her husband Brent of San Diego, Calif. and Northeast Harbor, Jo Hardy Willegalle and her husband Mike of Eden Prairie, Minn.; seven grandchildren; and his sister Ann Hardy Porter, of North Carolina and New Hampshire.
Rod asked that memorial gifts be made to: American Camp Association in his honor and mailed to: Winona/Wyonegonic Campership Fund, 35 Winona Rd., Bridgton ME 04009.



---


Pet er Papesch's photos of Rod's joining his classmates at the Oct. 14, 2011 Class of 1960 luncheon at Dunster House