Chapel weds diversity, transparency
---
Theological school in Newton builds a 'meeting house for the 21st century'
By Robert Campbell, Globe Correspondent | January 27, 2008
NEWTON - The new chapel at Andover Newton Theological School, in Newton, couldn't look like the church of any particular denomination. The school's president, Nick Carter, says that's because his 400 theology students represent 35 varieties of religion. All of them use the same chapel. Most are some variety of Christianity, but there are other denominations whose needs must also be respected. Then, too, the Hebrew college next door borrows the chapel from time to time.





So the architectural problem was an interesting one. How do you make a chapel that satisfies the needs of so many different groups and cultures?
"Each of these faiths has its own architectural history, its own architectural traditions, markers, and expectations," says the architect, Brett Donham of the Boston firm Donham & Sweeney. But the architect can't use any of those "markers and expectations," because each would limit the chapel to only one kind of religion. If you do a white clapboard New England church with a pulpit and an organ and a steeple, for instance, you're shouting "Protestant!"
As often happens in architecture, Andover Newton is a case where the tougher the problem, the more elegant the solution. The chapel - it's called Wilson Chapel, after the chief donor, steel magnate A.O. Wilson - takes its place among the small gems of recent New England architecture. It solves the problem of being all things to all people without feeling the least bit bland or compromised.
Nick Carter, the client, has strong opinions. He thinks his job is to train seminarians to be able to adapt to an ever-changing world. Among those changes, he says, is a movement away from the preacher-in-the-pulpit - he calls it "the sage on the stage" - to a more participatory, more communal, kind of ceremony.
That means no fixed pews. Instead, light chairs - 190 of them - can be quickly rearranged into new formations. "It's a New England meeting house for the 21st century," says architect Donham. Like the meeting house, the chapel can be used for community events as well as religious services. On a recent visit, the chapel was set up for Christians, with a handsome (though very modest) maple and cherry pulpit and a couple of prominent crosses, but these and other symbols were mounted in a way that makes them easily moveable.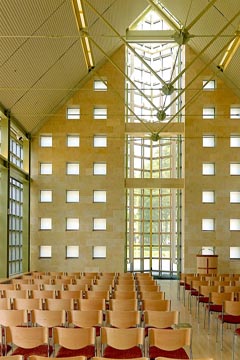 Despite its lack of sectarian symbols, Wilson Chapel is full of architectural gestures that speak of religion or, sometimes, even religious politics. The chapel faces more or less south, with a huge glass wall looking out in that direction. Carter says that's because the church in the United States needs to "be exposed to the Southern Hemisphere."

Materials speak, too. Inner walls are made of Jerusalem stone, an obvious reference to a religious past that isn't, however, anybody's icon. The floor of the entry lobby is paved with African slate, in a variety of tones, another gesture to a faraway continent that also symbolizes the diversity of faiths among the seminarians. The steel framing and bracing that hold the building up are clearly visible. That's a bow to the donor but also, says Carter, it's a statement that "we want to see what holds you together, how you're sewn together."

Windows are everywhere, expressing the contemporary church's openness to the community, its wish to be in the world, its lack of mystification and mumbo-jumbo. "Transparency is a core value," says Carter. Some of these metaphorical moves could feel cornball in other hands, but here they are subtly and beautifully made.

Outdoors, the walls are Indiana limestone, the same material that's used as trim on the red-brick traditional buildings that surround the chapel. The limestone is thus a gesture of solidarity with the past. But the pale stone also makes the chapel the lightest, brightest building on the campus. Where it faces the school's main quad, the chapel rises to a high, steep gable, high enough to command the space. And climbing all the way from the ground to the top of the gable is a narrow bay window. It's architect Donham's way of suggesting aspiration without actually making a steeple. At night, the window glows dramatically.

In short, Wilson Chapel is a kind of talking building, full of messages that are whispered rather than shouted. It's also fully modern, of course. "Twenty-seven percent of American churches now use power-point presentations," says Carter. He expects his students to learn to manage the media of their own time. Among other things, they'll soon be able to video record their sermons and play them back for criticism. He says that in their careers, the students will need "agility," an ability to cross cultural borders while remaining rooted in their own identity. "We teach border-crossing skills," he says.

There's a price to pay for everything. Wilson Chapel's transparency is at times too transparent. The painful glare of a low January sun comes through some of those many windows. Motorized shades bring relief, but the windows in the smaller support rooms don't have them. New trees have been planted and they'll probably help. As for that other kind of price, Wilson ran about $5 million in construction cost.

Carter makes one other interesting point. He says that 50 percent of American churchgoers attend a church of a different faith from the one they grew up in. "They join churches for a sense of community. Faith is not the deciding factor. It may be kids' programs or the music or the preaching or the location." He doesn't say so, but he seems to imply that a church today is a consumer choice, a choice made from a free market of many acceptable faiths and offerings. I guess that's part of the diversity the school cherishes. But it does cast the future religious leader as something of a promoter.

That's not a criticism. Wilson Chapel is a superb building, not merely for its architecture but for all the ways in which it gets you thinking.

Robert Campbell, the Globe's architecture critic, can be reached at [email protected].